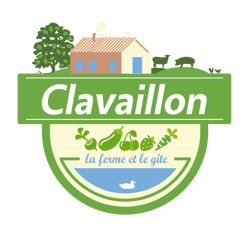 An old cowshed converted into a two story sleep 12 holiday home ('un gîte' in French) on a 20 acre micro farm for stays with family and friends.
There are 4 bedrooms (2 of which are ensuite) with a separate toilet and a shower room, an open plan kitchen, a dining, and a lounge.
A holiday home for friends and family in a converted old cowshed
50 minutes drive from Bordeaux. Easy access to the Atlantic Ocean (Arcachon/Dune of Pilat), medieval castles and villages, thermal spa, many châteaux in the Bordeaux wine regions, tranquil canals, lakes, scenic Dordogne, and even the Basque country and the Pyrenees. A good base for cycling, fishing, and walking holidays, or for a farm stay to experience tranquil French farming life.
We're located near several popular wedding venues in the region around Bazas and host guests for those joyous moments throughout the year.
We hope you will enjoy the peaceful surroundings in the French countryside. Come feel four distinctive seasons at Clavaillon, in which you see different flowers, birds, and colours of foliage and sky. Or even different smell in the air.
If you feel more active, Clavaillon is in a very good position to go out for walking, running, cycling, canoeing, horse riding, swimming, etc. Also, by car, you can easily reach many scenic areas with natural beauty, as well as tourist attractions including Bordeaux city centre.
You will receive a welcome gift of complimentary local organic wine and juice, local craft beer, and a basket of seasonal produce from our farm. Please note that availability of produce differs depending on the season and weather etc.
Your pets are welcome, as we have our own cat and dog! When you make a reservation, please just tell us you'll be bringing your pets.
The price differs between seasons and days of the week. The following prices per night include the VAT and local tourism tax.
Friday and Saturday nights (as well as some days around national holidays): between 200 and 265 €

Sunday to Thursday nights (except for some national holidays): 99€

Any nights in August: 200 to 225 €
Depending on the night of the week from which your stay starts, the minimum number of nights for your stay will be 2 to 4. In August, please book your stay for 4 nights or more.
For more details, or just saying hello, please contact us.